Early Bronco Trail Cover Mass Buy is on. Mass Buy will end June 30, 2006
Click here to go to the Early Bronco Trail Cover Webpage.
Description:
These Early Bronco Trail Covers are a great way to keep the inside of your rig dry. They can be installed quickly (Using 6 adjustable straps with buckles) and come with a pouch for storage that is small enough to fit under the passenger seat making them a great item to carry on weekend outings with the normal top and/or doors removed.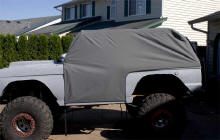 They are made from lightweight and durable marine fabric to hold up to the elements and can be used as either a short term (overnight) or long term (through the winter) solution for keeping the weather out of your rig. They come in two versions that are universal fit to cover a large variety of different configurations. The Full Family Cage version is large enough to fit over almost all family style cages as long as a hard top or soft top can still be installed over them. The Standard Cage/Half Cab version is designed to fit with most standard roll bars or cages that "do not" provide rear seat family cage protection.
Cost:
The Mass Buy price will be $100 Each.
Shipping:
The shipping on these will be a flat rate of $15 to the continental US. See the web page for details. These will "NOT" begin shipping until sufficient orders have come in to buy the materials at the bulk rate. As soon as they do then they will begin shipping as fast as I can make them. I expect the first orders to start shipping within one to two weeks.
Payment:
To order yours please visit the webpage I have set up for them:
Click here to go to the Early Bronco Trail Cover Webpage.
Rick Halle (SaddleUp)
Edit: I removed the minimum order requirement which has been met now.